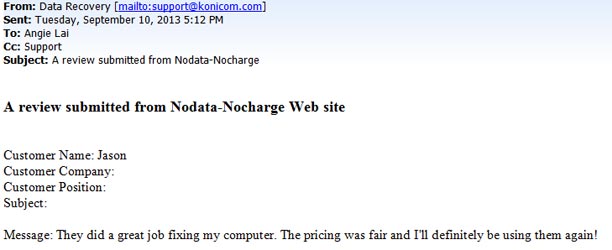 Click to Enlarge
---

The life of a loving grandmother will never be forgotten.
With all the cherished moments of a dying grandmother stored in an old and broken computer and her days to live was on a fast countdown, the young Thorwaldson family feared the thought of losing all memories of the person they saw most beloved.
Unfortunately, with so little money left after grandmother's long time medical battles, paying for recovering the lost photos just seemed prohibitive. So saddened by this, friends of the Thorwaldson's family gotten together and raised partial funding trying to rescue the memories left. However, it was far from matching the cost of data recovery. The people at Konicom were touched by the saddened event and the strong love and bond this family and friends had. For the sake of the young Thorwaldsons, they were willing to absorb the rest of the cost and provide a full recovery of Grandmother Thowardson's lost photos. With the data recovery of all the lost photos successful, the young family was able to share a loving moment together one last time before their grandmother's passing. This cherished moment was made possible by the kindness of the people around the Thowardson family, and Konicom's excellent work in Data Recovery. The life of a loving grandmother will never be forgotten to those that treasured her dearly.
---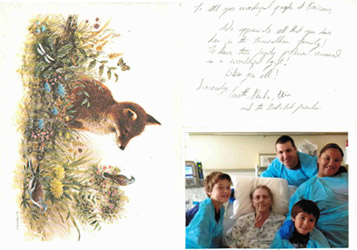 Click to Enlarge


---

I just wanted to thank Konicom and their staffs for their excellent work in Data Recovery. I had a shot hard drive with years of unpublished comics I've been working on stored within the device that meant everything to me. It wouldn't have mattered as much if I had just lost a regular comic book, but this was years worth of unpublished work! Just when I thought all of my hard work was forever lost; Konicom was able to prove otherwise. They were able to recover all the data stored within the shot hard drive including my years worth of unpublished comics. Adding to their capabilities of recovering data, their customer service was excellent; always providing me with updates on the recovery process so I was very happy about that. Thanks to Konicom, I was able to open a Comic book store, something I've always dreamt about and had the passion of doing. I wouldn't know where I'd be now if it wasn't for Konicom and their excellent Data Recovery services. I highly recommend Konicom for any of your future data recovery needs. They met all my expectations as professionals with excellent customer service and understood the level of my urgency. Once again, Thank you, Konicom! You saved me!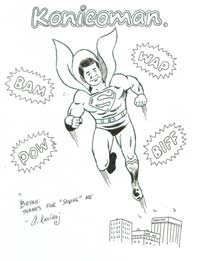 Click to Enlarge
Anand Kaviraj, Big Brother Comics
---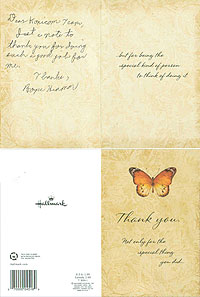 Click to Enlarge
---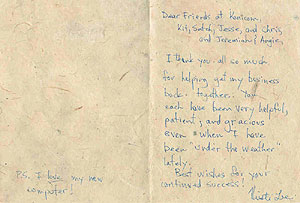 Click to Enlarge
---

"Konicom proved to be a valuable and cost effective service provider for us. They recovered some very critical data for us, and did so in a timely manner and at reasonable cost. The techs kept us informed of the process as it went along, and the service was professional in every way. If you have data recovery needs, I suggest you give them a call."
Danny Biando, KTXL FOX40
---

To: IS Dept Manager,
I just wanted to tell you everything went well with the retrieval of my hard drive. They were able to retrieve everything from my hard drive for $260.00. This was well worth it to me. I had files which could not be replaced. The people at Konicom were easy to work with and signed the confidentiality agreement readily (even bringing the subject up, when I first contacted them by phone). They gave me an estimate prior to working on the drive and let me evaluate the retrieval prior to taking the CD home. I am extremely happy with their work (more and more each day, as I am able to access files I thought were gone forever).
The company is:
Konicom Inc
1819 "J" St
Sacramento Ca
Phone:441-7373
Attention: Bryan Wu
Thank you,
Jana Cinder RN, Dialysis Access Nurse
Renal Services/Dialysis Access
UCDMC, Sacramento
---

Guys;
After my hard drive crashed, I went to Google for information on "Hard drive repair in Sacramento, CA". I picked a company that could not do the job but that company strongly recommended Konicom. I was not disappointed. Konicom was able to recover all of the data on my C: drive even though the hard drive and mother board of the laptop were toasted. As a consulting engineer myself, the data on the hard drive were hours of work which I did not have to redo. You saved me lots of time and money. You guys at Konicom did a very good job in a timely manner at reasonable price. What else can you ask for. Again, thanks a lot.
Gideon Tella
Avenger Engineering, Inc
Alpharetta, GA
---

Konicom
1819 J Street
Sacramento, CA 95811
Thank you for the great service in recovering my data and getting my computer up and running.
Before finding you I had called several different companies, including one endorsed by CompUSA, and found their prices to be extremely high and their turnaround times to be much longer than was acceptable to me.
Your pricing was about a half to a third of what the other companies had quote me. I was also impressed that I was able to drop off my computer at the end of the business day on Friday and you were able to deliver it to me, completely restored and fully functioning, on the following Monday.
In addition Bryan was very friendly and patient in answering all of my questions.
I truly appreciate the competitive pricing, fast turnaround and professional service that was provided.
Best regards,
Kevin Groen
Mortage Planner